s
hhh
.
s

h

ampoo

|
s
h
ower
|
s
h
ave
A luxury grooming/beauty bar designed

for Both Men and Women - created by a hairdresser for Travel - Gym - Home
shhh. is free of parabens, gluten, phthalates, mineral oils, petrolatum, synthetic dyes, preservatives, artificial fragrance and coloring. All packaging is 100% compostable and recyclable.
Shampoo, shower and shave. No shit .

$16

$5
Ingredients:
Saponified oils of olive, castor seed, coconut, palm, sweet almond, cocoa butter, kukui nut and jojoba oil. In addition, an exclusive, proprietary blend of 7 varieties of lavender essential oil - [7] essentials.
shhh...is also available in our signature and sensual bars.
Directions:

Thoroughly wet hair. Rub bar in wet hands until foamy. Apply lather to hair and massage scalp. Rinse. You may not need conditioner. Style as usual.

Thoroughly wet bod. Rub bar in wet hands until foamy. Apply lather to area to be bathed/shaved. Rinse.

Shower and bath bliss: the pouch.

The perfect travel companion:

cedar box

.
Eco Clear Bags (made from lactic acid from plants) are used for all sample and 1.5ish oz packaging.
A unique three-month process makes this "shampoo" bar unlike any other on the market.
All design, manufacturing, and packaging is achieved by the independent|small business community, with a commitment to sustainability.
Design and manufacturing, Minnesota; Packaging, Michigan (family-owned, 100% hydro-powered paper mill).
As with any beauty|grooming product, don't eat or get in eyes and if irritation occurs discontinue use...duh.
Isn't beauty fun?
™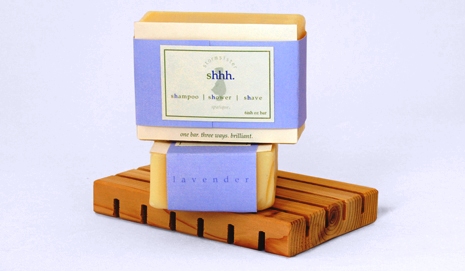 shop:

1.5 oz bar

6 oz bar

cedar dish

{8}
[7]

the pouch

cedar box

doggystyle
candles

twitter

facebook

press