doggystyle
Shampooch.
A luxury grooming bar for your best friend. doggystyle was designed with my own pooch in mind; Boone, my favorite Shar Pei.
doggystyle is truly eco-friendly, thus free of parabens, gluten, phthalates, mineral oils, petrolatum, synthetic dyes, preservatives, artificial fragrance and coloring. All packaging is 100% compostable and recyclable. (Dogs and humans were given baths to test this product ;o)
Bring your pooch to the groomer? No worries, you may still use doggystyle - bring a bar for your groomer to use!
3waybeauty:
*dogs

*humans

*produce - run warm water over bar for a fruit and veggie bath.
Directions:
Thoroughly wet fur. Rub

doggystyle

bar in wet hands until foamy. Apply lather to coat and massage. Rinse.
You may also dissolve doggystyle in water and use as a liquid shampoo. Simply cover bar with 8 oz. of water and bar will liquify in several hours.
Ingredients:
Saponified oils of olive, castor seed, coconut, palm, sweet almond, cocoa butter, kukui nut, jojoba oil and an exclusive, proprietary, 100% essential oil blend.
All design, manufacturing, and packaging is achieved by the independent|small business community, with a commitment to sustainability.



Design and manufacturing, Minnesota; Packaging, Michigan (family-owned, 100% hydro-powered paper mill).
As with any grooming product, don't let your dog eat it or get it in their eyes, and if irritation occurs discontinue use...duh.
Isn't beauty fun?
™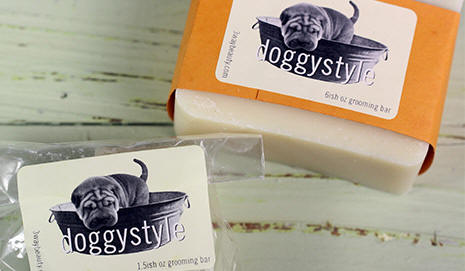 shop:

1.5 oz bar

6 oz bar

cedar dish

{8} [7]

the pouch

cedar box

candles


StormSister Spatique® LLC ©2005-2018 | Press Release